The sun has finally decided to shine here in Teesside over the past few days hooray, but sadly it look like that's about to change.Well I've reach that time of year were just about everybody in my family has something to celebrate, whether it's a birthday or wedding anniversary.I have three cards to share with you today that I made last week for family member's .I haven't been around much to get them posted ,better late than never. I need to brush up on my photography skills ,my images seem to be rather dark,apologies once again.Both recipients share the same birthday
This card I made for my brother-in law who celebrated his fiftieth birthday last week....
What I used:
Cardstock from stash
Image -La Pashe Trinitage
Betting slip-free download-handwritten
I would like to say a big thank you for these freebies,this is a great blog, check it out if you haven't already done so it is crammed with oodles of digi images.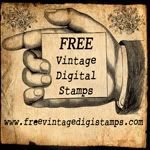 What I used;
Post card,vintage map and vintage car all from Free Vintage Stamps
Vintage car coloured with Promarkers.